The Ultimate Travel Satchel
$33.97
$75.00
SAVE $41.03
Keep your essentials safe and secure while you explore the world with this ultimate travel satchel!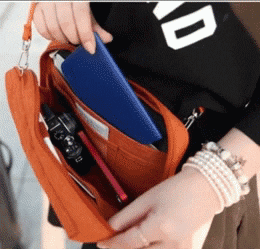 These custom-made, unique and stylish RFID-blocking travel satchels can easily store your passport, iPhone, credit cards, tickets, notes, USB, cash, pens and so much more.

FEATURES:
No matter where you end up, whether that be Niagara Falls in Canada or Cropp River in New Zealand, all your personal belongings will be kept dry. The Ultimate Travel Satchel is water-resistant so you can rest assured everything will be protected from water damage.
Inside there are multiple pockets and compartments to keep your belongings neatly organized and easily accessible at all times.
This compact satchel is also very portable and can be hung around your shoulder wherever you go, stored in your purse, backpack or anywhere you choose. You will know exactly where everything is and never worry about misplacing your personal belongings ever again.
The main material used to make this Travel Satchel is Nylon which is extremely strong and durable, a material used for making sails, tents, marquees, backpacks and other items for which sturdiness is required.
SPECIFICATIONS:
Material: Nylon
Size: 27cm x 17cm x 5cm
Package Includes: 1 x The Ultimate Travel Satchel