Game Of Thrones Wooden Music Box
$13.97
$39.95
SAVE $25.98

CAN'T GET ENOUGH WITH THE GAME OF THRONES FINALE? THIS

GAME OF THRONES WOODEN MUSIC BOX

IS PERFECT FOR YOU!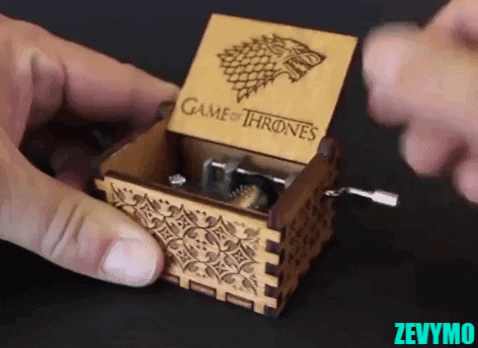 If you spend your day and night wondering how Game of Thrones ended like that, wishing it may have ended another way around, like Jon Snow and Daenerys sitting in the Iron Throne or longing for a better Battle in Winterfell, look no further? Crank the box and listen to the Game of Thrones music. It is undoubtedly the best gift you can give a GOT fan on his/her birthday.
FEATURES: 
This

Game of Thrones Wooden Music Box

is handcraft with very high-quality birch plywood.
Stylish and an identifier for

Game of Thrones fans

.
Each box provides a beautiful tone to your ears and aesthetically appealing to the eyes.
Try on wood or glass or different surfaces for a new sound.
The design is inspired by vintage storage boxes that play the theme song for

Game of Thrones

.
  SPECIFICATIONS:
Material: 4mm birch plywood
Size: 65x55x40mm (2.55" x 2.16" x 1.57")
Finish: Natural oak stain
Use: Rotate handle to play music
Requirement: To be operated manually
Song: Game of Thrones Theme Song
Package includes:1 x Game of Thrones Music Box