Easy-Seat™ Portable High Chair
$34.97
$45.99
SAVE $11.02
Parents, your life just got a little easier with Easy-Seat™ Portable High Chair!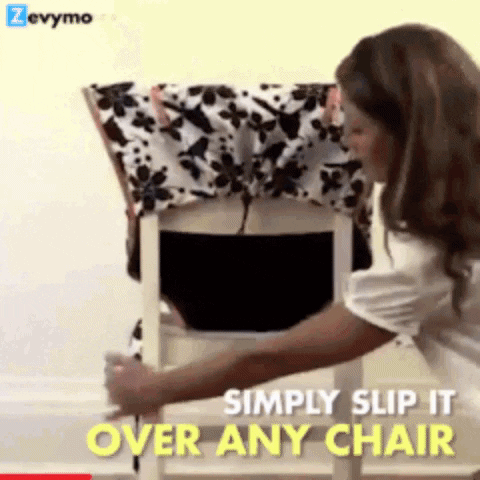 Easy-Seat is truly a revolutionary idea! Say goodbye to the hassle of hunting for highchairs, grimacing at germ-infested surfaces, or worst of all, being baffled by broken high chair clips! This seat is designed with parents in mind and is perfect for on the go travel. Easy-Seat easily attaches to any adult chair to surround your baby in both safety and comfort. It securely wraps to chairs and babies of all shapes and sizes. Easy-Seat is conveniently pocket-sized to fit right in your diaper bag or purse AND is machine washable!
FEATURES:
PORTABLE HIGH CHAIR - It's the High Chair that you can take with you anywhere. Whether you are heading over to a friends house or out to dinner with the family, your portable easy seat makes it easy to take your baby with you & makes feeding time effortless.
FITS OVER THE TOP OF A CHAIR - To use simply slide it over the top of any quality strong chair where ever you are. You will find it's very fast and convenient to setup.
JUST ONE CLICK TO SECURE - Once you have your Easy Seat over the top of the chair all you need to do is pull the strap around to the back of the chair. From there, it just needs 'One-Click' to join the two ends together and pull to tighten as required.
SHOULDER STRAPS FOR BABIES SAFETY - It takes just seconds to slide your little one safely into your Easy Seat. You then secure him/her in place with the two shoulder straps. With just two more clicks on the shoulder straps, you will have a baby that is secure, safe and happy.
MACHINE WASHABLE + CARRY BAG - With its light carry bag fits conveniently in your handbag or purse so you always have it with you when you are out and about with baby.
SPECIFICATIONS:
Feature: Green Dye, Anti-Pilling, Light
Color: Dark Blue, Red, Green, Sky Blue
Recommended age: 6 - 30 months
Max Load: about 16 kg
Package Includes: 1 x Easy-Seat Quality Portable High Chair