Automatic Irrigation System

Enjoy your vacation without worrying about your plants!
Are you wondering who will water your plants while you're away on vacation? With the Automatic Irrigation System, you can go relax without having to worry about your plants.
FEATURES:
AUTOMATIC IRRIGATION SYSTEM - Never forget to water the plants again. Keep them hydrated for days with the Automatic Irrigation System, you can fill the water for your plants once and have them be watered automatically for up to 15 days!
ADJUSTABLE DRIPS - Don't worry about over-watering your plants. The Automatic Irrigation System has an adjustable drip valve that lets you control how much water your plants get.
PERFECT FOR BUSY DAYS - Do you always forget to water your plants on busy weeks? The Automatic Irrigation System can help. Just fill in the water bottle on your rest day and place the irrigation spike on your plants, adjusting the valve as you see fit. The Automatic Irrigation System is perfect for those busy days or for when you're away on a holiday!
ECO-FRIENDLY - Reduce, reuse, and recycle your water bottles! Use a clean old bottle of water on your Automatic Irrigation System to act as its water container. It helps you recycle plastic bottles while keeping your plants hydrated.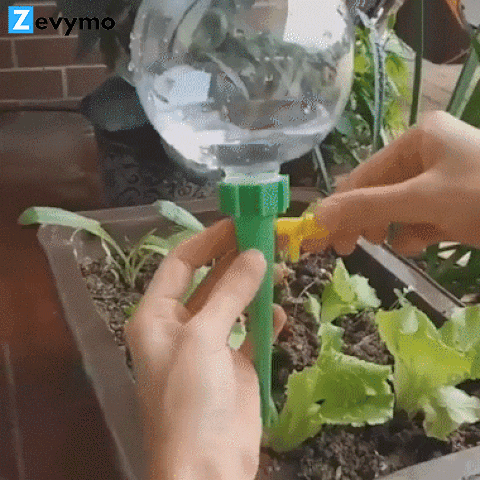 HOW TO USE?
Get a clean plastic bottle and puncture a hole in the bottom or cut the bottom part.
Use the Automatic Irrigation System to close the mouth of the bottle.
Tilt them upside down and stab the Automatic Irrigation System into the soil near your plant.
Add water into the water bottle via the hole or cut on the bottom.
Adjust the valve until you see the right amount of drips your plants needed.
SPECIFICATIONS:
Material: PVC
Size: 16cm x 3cm
Package Includes: 1 set of Automatic Irrigation System